Back

Goccopro

Goccopro printing machines.

Consumables needed to get the best results with Goccopro.

Presses

Automatic printing grabs.

Manual printing octopuses.

Bases for textile printing

Workshops

State-of-the-art screen printing workshops.

Training courses required for the printing industry.

Sublimation

High quality sublimation printers.

Consumables for sublimation.

Heat presses for the decoration of objects.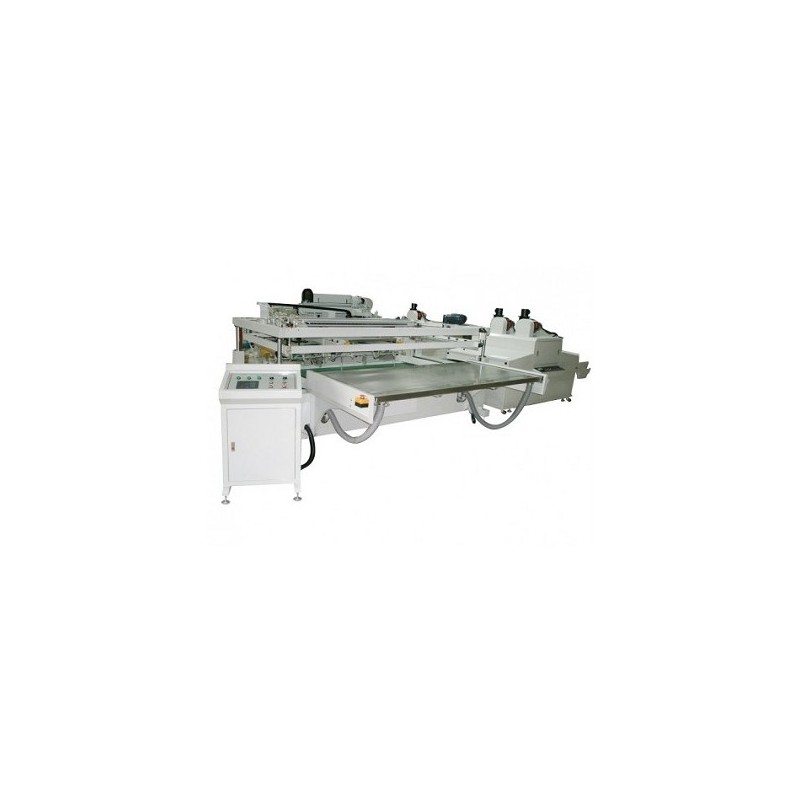  
SA-8121SSC
Large print area flat object screen printing
Machine for screen printing of flat objects with a large printing area. Machine designed for multi-color screen printing in industrial production.
This machine has different settings. 
The price depends on the configuration. To request an offer, write to us indicating:
-Material of the object.
-Measures of the object.
-Measures of the printing area.
-Shape of the object.
-Number of colours to print.
-Pieces / hour.
Include images of the objects and the design to be printed.
Entrega en 24/48h*
Screen printing of objects with a large surface
SA-8121SSC is a machine that has been designed for screen printing of objects with large printing areas. Its properties make it a very efficient solution for industrial productions: print speeds of up to 1200 prints per hour and servo-motorized movements of the print head and the table or work support are achieved in its three axes through guides. Precision allows high quality screen prints. Optionally, it is possible to install an automatic product unloading system consisting of a conveyor belt.
Operation and safety
The work routine is easily programmable and controllable by an operator through a touch screen. Operating the machine is safe as it complies with EU safety standards. For multicolour serigraphs it is possible to adjust the table or the work support in its three axes, and optionally it is possible to install a precision registration system. The automation is controlled by PLC.
Available versions
SA-8121SSC

/1:
Maximum printing area: 1200x1800 mm.

Power: 5 kW.

Load resistance: 380 V.

Printing speed: 1200 pcs / hr.
SA-8121SSC

/2:
Maximum printing area: 1500x3000 mm.

Power: 6 kW.

Load resistance: 380 V.

Printing speed: 1200 pcs / hr. 
SA-8121SSC/3:
Maximum printing area: 2000x3000 mm.

Power: 7 kW.

Load resistance: 380 V.

Printing speed: 1200 pcs / hr.
---
¿Any doubts?
Contact us: mkt@cromaiberica.com
---
Training for use in our facilities is included in all equipment.
30 years of experience support our recommendation to carry out the training in our facilities for different reasons, but mainly because the people involved are fully dedicated to training, without external agents to interfere or interrupt, in addition to the fact that the people to train can see in first-hand, other systems or tools that can complement the planned training and provide a broader knowledge of the process.
Data sheet
ALIMENTACIÓN ELÉCTRICA

380 V
Fase triple

COLORES A IMPRIMIR

De 1 a 10 colores

VELOCIDAD MÁXIMA

1200 piezas/hora

LONGITUD DE IMPRESIÓN

3000 mm

ANCHO DE IMPRESIÓN

2000 mm

FORMA DEL OBJETO

Plano