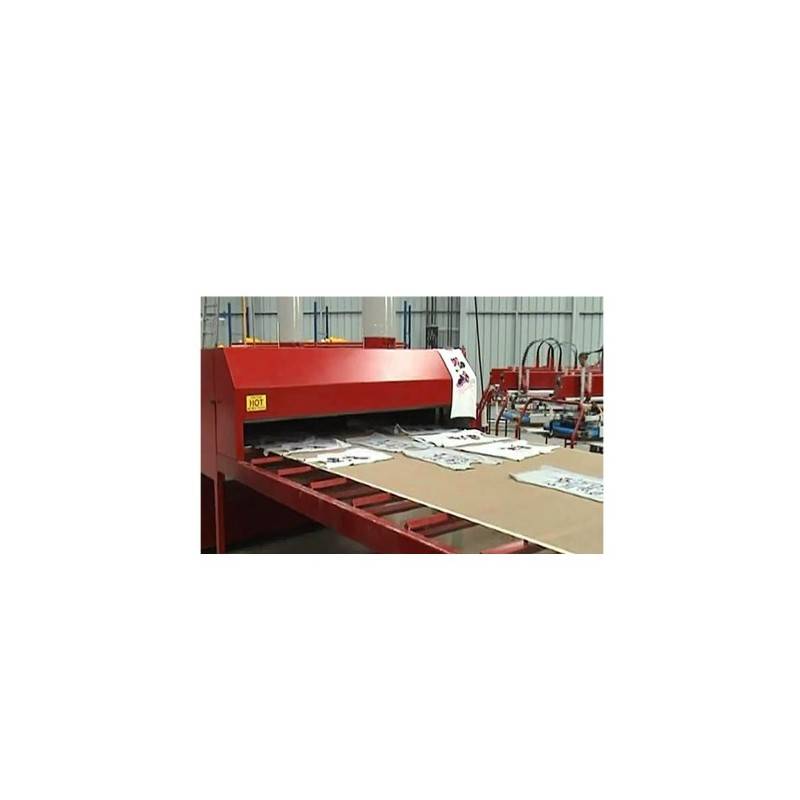  
Gas drying
The Vulcan II Modular Industrial Gas Drying Tunnel has been designed for operator safety. It dries without the use of infrared and also keeps the temperature stable. Vulcan II Modular is a fast and safe drying system for industrial production. It is available in 12 different models, which differ in size and performance.
Easy control from a touch screen
Vulcan II Modular contains a 7 '' touch screen with a programmed alarm to start up and shut down the machine, from which it is possible to consult service data and the drying configuration. It also allows adjustment of speed and temperature.
Construction and operation
Vulcan II Modular, is an instant drying machine composed of a double wall with stainless steel insulation capable of maintaining internal heat. It has an air cooling system for the maintenance and stability of the temperature. The machine is easy to disassemble for maintenance and cleaning.
Heavy-duty conveyor belt
The Vulcan II Modular conveyor belt is composed of a wide belt of Teflon coated glass fibres and with rollers that support the heavy load.
System and temperature
It can withstand a maximum temperature of 450º F and contains a digital controller to ensure that the temperature inside is not lower than 1º. The machine system is solid state gas (compatible with natural gas). It allows to improve the control of the exhaust gases of the machine.
Data sheet
ALIMENTACIÓN ELÉCTRICA

208/230V, Trifásico, 50/60 Hz

CONSUMO MEDIO

2,4 kW

AJUSTE VELOCIDAD

Si

FORMA DEL OBJETO

Plano

SISTEMA DE CURADO

Aire

AJUSTE TEMPERATURA

Si

TEMPERATURA

450ºF - 232ºC

LONGITUD DE LA CINTA

305 cm
Choose product attributes:
Ref.
Ancho de la cinta (cm)
Longitud del túnel (cm)
Unit price
Buy
SS10505
106
305

€30,159.36

MMS106366
106
366

€39,460.32

MMS122305
122
305

€32,392.38

MMS122366
122
366

€37,558.41

MMS122488
122
488

€44,859.36

MMS122610
122
610 (dos quemadores)

€59,426.98

MMS152305
152
305

€42,760.32

MMS152366
152
366

€51,606.34

MMS152488
152
488

€60,357.14

MMS152610
152
610 (dos quemadores)

€78,650.79

MMS183305
183
305

€49,303.17

MMS183366
183
366

€59,680.94

MMS183488
183
488

€68,256.35

MMS183610
183
610 (dos quemadores)

€98,984.12

Total:

0,0

All prices with tax excluded.
Tax rate: 21,0%.