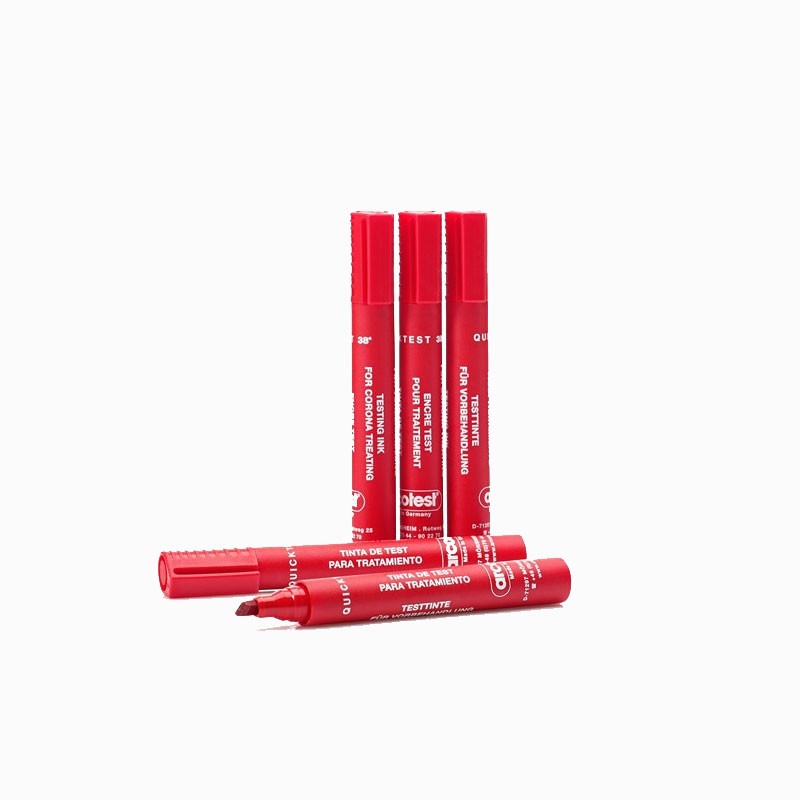  
QuickTest 38
Quicktest 38 Marker Red
Quicktest 38 red marker to measure the surface tension of a material.
Product preparation period: 3-4 days.
This product is produced and packaged to order, so that the consumer can have the longest expiration date when they receive it.
For more information, refer to the attached documents of the certificate of useful life and general information.
Entrega en 24/48h*
Thanks to Quicktest 38 it is possible to check whether the pretreatment of polyolefins (polypropylene, polyethylene, polybutylene) has been carried out correctly. The liquids contained in the pencil remain in the form of a continuous line with a surface tension value of about 38mN / m or higher, and pass underneath. The line applied with Quicktest38 dries in seconds, as it does not have to be cleaned.
Advantage:
• Easy to check thanks to its striking red color.
• Extremely easy handling.
• Perfect for rapid random tests on polyolefins.
• It is not necessary to delete it.
• Durable indication of test result.
• Archiving of the test result.
Attention:
Quicktest 38 test fluid contains solvent. Therefore, its use in materials sensitive to solvents (such as polystyrene) could have a negative effect on these and lead to incorrect interpretations of the result.
Choose product attributes:
Ref.
Descripción
Valor (mN/m)
Set o envase
Tipo testinte
Unit price
Buy
TST00082
Rotulador quicktest
38
Rotulador
Quicktest

€24.00

Total:

0,0

All prices with tax excluded.
Tax rate: 21,0%.