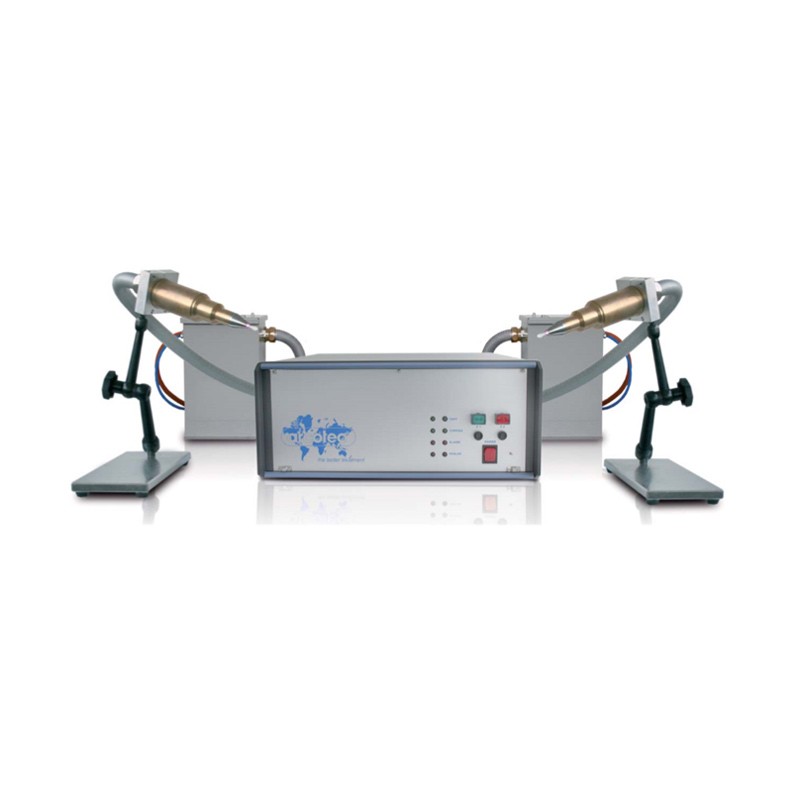  
Arcospot plasma machine is ideal for pretreatment
Arcospot is the atmospheric plasma machine used for in-line pretreatment of moulded parts, profiles, adhesive grooves, and folding boxes. Speeds up to 200 m / min can be reached at a distance to the surface of approx. 6-10 mm.
Arcospot cares about your safety and comfort
The Arcospot atmospheric plasma machine has been designed to perform treatments with maximum safety when handling the machine, thanks to the electrode head that is connected by a hose to the transformer. In addition, its design is ideal to obtain great comfort when using the device.
Application mode
The Arcospot PGS equipment finds its application in the online pretreatment of machined parts, profiles, glue grooves and folding boxes. Treatment speeds of more than 200 m / min can be covered. The treatment distance from the surface is approximately 6-10 mm.
Components
The equipment consists of a semiconductor generator with an external transformer for the production of high voltage and the electrode head for the discharge of sparks (plasma).
Connexion
The connexion between transformer and generator can be plugged. The electrode head is connected to the transformer by means of a tube in which the high voltage and compressed air lines are located.
The electronic system of the Arcospot is modular in structure; The individual modules of the generator are arranged in a plug-in way. The signal input and output connexions are arranged in plug-in connectors (industry standard) so that they can be controlled by a higher-level installation.
What is it made of?
Arcospot is composed of a semiconductor generator, an external transformer for high voltage production and an electrode head for spark discharge (plasma). The transformer is connected by means of a plug to the generator, while the electrode head is connected by a hose where the pressure air pipes and the high voltage cables are located.
There are two models available
Arcospot has two different models. The difference between them is basically the maximum treatment width and weight.
Data sheet
ALIMENTACIÓN ELÉCTRICA

50/60 Hz
230 V

SUMINISTRO DE AIRE

30 L/min, 4-6 bar

PESO

20 Kg
Choose product attributes:
Ref.
Número de electrodos
Unit price
Buy
SS10562
1

€0.00

SS10568
2

€0.00

Total:

0,0

All prices with tax excluded.
Tax rate: 21,0%.