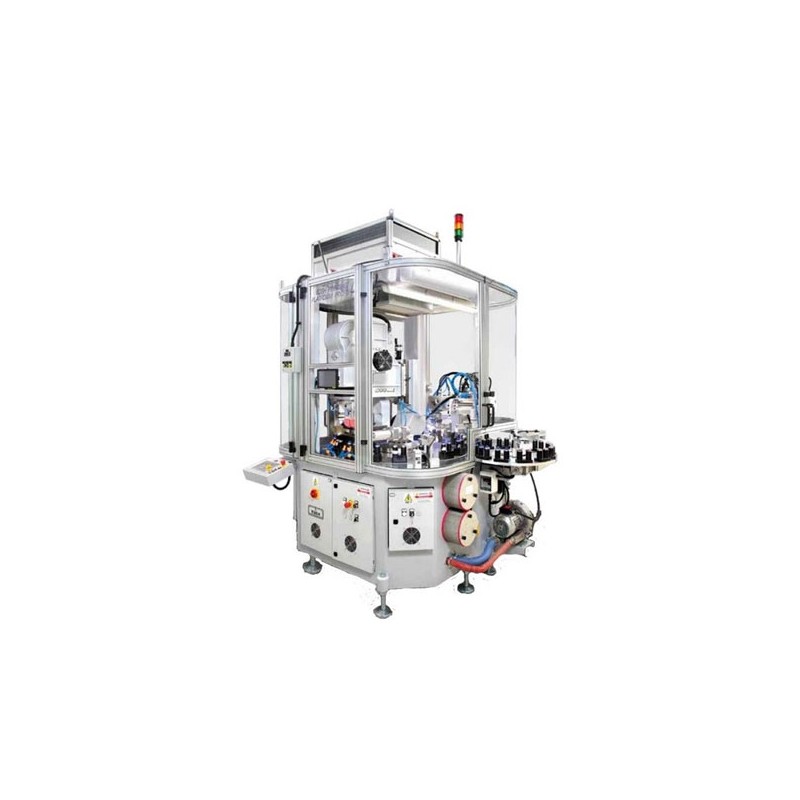  
Lógica Platform
Industrial CNC pad printing Logica Platform ◁ Croma Ibérica ®
What is the Lógica Platform?
Modular, electrically operated pad printing machine.
Manufactured in 3 different models: S (small), M (medium) and L (large) according to their size, stamping speed or cadence and number of colors.
Printing of up to 10 colors.
Inkwells with a maximum diameter of 195 mm.
High cadence solution.
100% electric operation with CNC.
Compact solution: takes up little space.
Flexible and adaptable pad printing machine ready to add auxiliary equipment and accessories.
Fine and quiet operation to preserve a pleasant working environment.
Compatible with the integration requirements of Industry 4.0.
Possibility of installing different models of the rotary support table (TRCN 04, TRCN 06 and TRCN 10) according to the production speed and precision required.
The cliches in the system are positioned radially, so that the graphicscan be easily engraved without tilt on the cliche, or placed outside the machine (reverse cliche).
Made of the highest quality light alloy and steel.
100% automatic complete solution for industry
Lógica Platform is a flexible pad printing machine, compatible with other complementary systems to obtain a complete solution with 100% autonomous operation within a production line:
Automatic parts loading and unloading systems.
Vision systems for integrated print quality control.
Surface pretreatment systems (flamed, corona, plasma).
Precision injection system.
Parts registration.
Rotation of the pieces for stamping in different areas.
Curing devices such as UV curing.
Devices for electrostatic dissipation.
INkjet.
Thermal printing.
To be.
And so on.
Designed to eliminate interruptions during production
It has been designed with high quality standards to ensure a long useful life and avoid the need for maintenance that interrupts production processes.
Frequent production changes are no longer a problem
Lógica Platform has a series of characteristics that allow rapid production changes (in less than 1 minute):
CNC.

Print heads (pad printing pads) and clichés installed in a radial position easily accessible to the operator.
Work start countdown system.
Save job parameters for reuse in later jobs.
Optimal working environment for a perfect result
The machine is faired and slightly pressurized to prevent the entry of dust particles or other objects that could alter the stamping result. It also has antimicrobial filters and a temperature maintenance system to maintain a clean and optimal environment.
Ergonomic and user-friendly environment
The fairing and pressurization system prevent the escape of solvent vapors, maintaining a pleasant environment for the operator. In addition, it is a silent machine allowing its operation in any environment.
ELógica Platform model M example
Model for printing 4-color cosmetic containers in various areas of the container with 4 print heads. 100% automatic loading and unloading of containers. Surface treatment prior to printing and printing quality control vision system.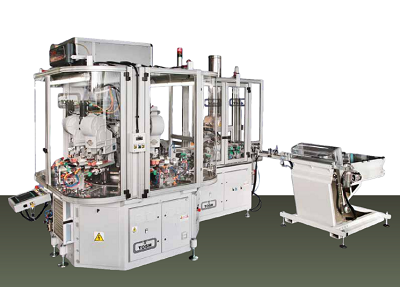 Lógica Platform model example
Model for printing cologne containers for reference brands with 6 heads for 6-color printing. Fully automatic solution.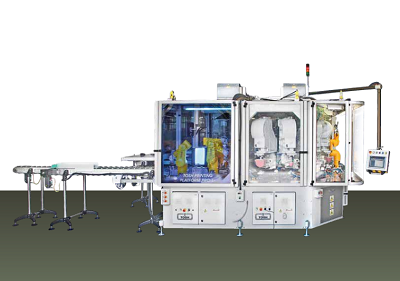 Lógica Platform S model example
Model for customizing metal parts with double rotary table and UV drying. It has installed a vision system for printing quality control, automatic tampon cleaning and air treatment and cleaning system for extreme quality results.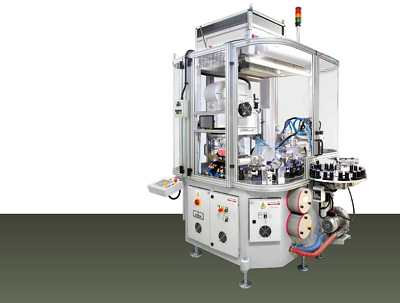 Training for use in our facilities is included in all equipment.
30 years of experience support our recommendation to carry out the training in our facilities for different reasons, but mainly because the people involved are fully dedicated to training, without external agents to interfere or interrupt, in addition to the fact that the people to train can see first-hand hand, other systems or tools that can complement the planned training and provide a broader knowledge of the process.
Data sheet
ALIMENTACIÓN ELÉCTRICA

220/240 V, Fase única, 50/60 Hz

OPERACIÓN

Eléctrico con control numérico computarizado

FUERZA DE ESTAMPADO

Hasta 16.000 N dependiendo del modelo

COLORES A IMPRIMIR

De 1 a 10 colores

VELOCIDAD MÁXIMA

16.000 piezas/hora

RECORRIDO VERTICAL DEL TAMPÓN

Electromecanico mediante leva

PESO

230 Kg o más