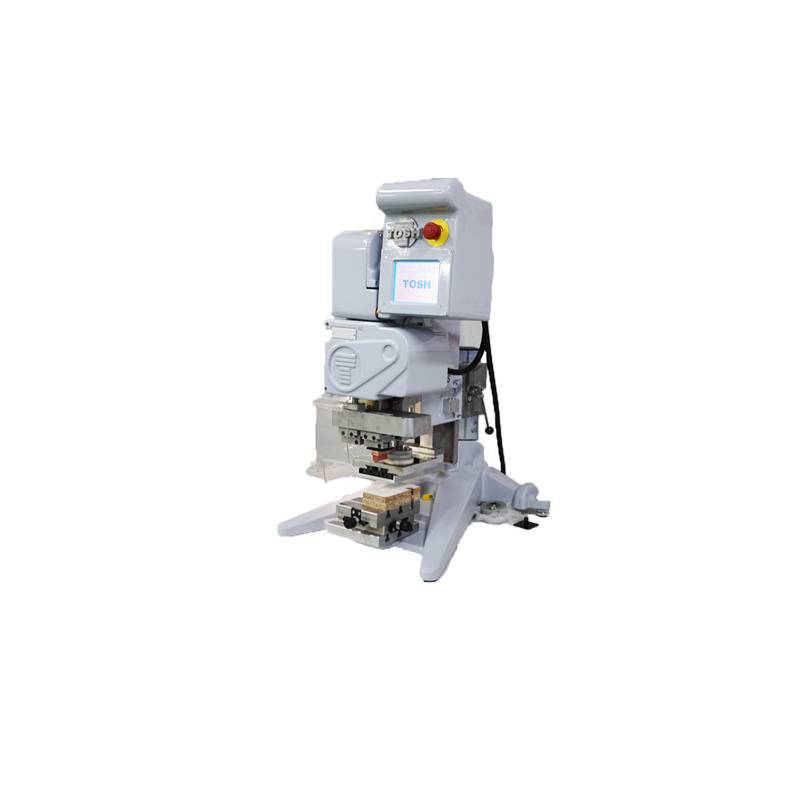  
Lógica Mimicro
High Speed Logic Mimicro Pad Printing ◁ Croma Ibérica ®
High speed pad printing machine from the international reference manufacturer Tosh. Ensure maximum efficiency in pad printing your products. High adaptability to any production line. Available in two versions: NS and N90S.
Entrega en 24/48h*
Economical, high-efficiency solution in product pad printing
Logica Mimicro is an economical and efficient solution for production lines where a high cadence or speed of product pad printing is required. It is a semi-automatic electric machine for printing a wide range of products. It has computerized numerical control, so it offers precision pad printing with a quality finish. Logica Mimicro presents all the features needed for stamping the products of an industrial production line: Very high print cadence or speed, ergonomic and simple system for programming and operation of the machine, security systems and hermetic closures for prevent the formation of solvent vapors in the workplace, robust system made of quality materials, etc.
Reliability is one of its strengths
Logica Mimicro has been manufactured with high quality materials and has been designed for smooth operation which increases the useful life of the components. It should also be remembered that being 100% electric in operation, it has fewer maintenance requirements than its counterparts with pneumatic operation. All this makes Logica Mimicro a reliable machine with a long service life.
Take care of the work environment and the operator
Logica Mimicro is capable of storing up to 16 work routines to retrieve them whenever they are needed, thus facilitating the start of any new job. Optionally, a programmable self-cleaning system can be installed. Its configuration and set-up is very simple and the change of routine can be done in 1 minute. It features a hood to prevent the formation of toxic vapors, protecting the health of the operator and, together with the smooth operation, they maintain a pleasant environment in the workplace.
Modular design to adapt to any need
Logic Mimicro has been designed so that a series of accessories can be installed in order to make it easier for customers to find the solution that best suits their needs. In addition, it is easily configurable through the alphanumeric keyboard: For example, the path of each of the stamps can be independently configured to stamp on different levels of surfaces of the same object.
Recommendation
We propose a series of machine configurations to make it easier for you to find the solution you need. We know that finding the right pad printing machine for your products is not an easy task. We have listed a series of configurations with the intention of covering the most common needs that will help you find the solution you need. You must remember that Mimicro has high flexibility and the possibility of installing a set of accessories that allows it to be adjusted to your requirements. If you need help, do not hesitate to contact us. We will be happy to advise you.
---
Accessories for Mimicro
We offer a series of accessories that help complement the functionalities of our Mimicro Logic, for more information access the button below.

---
Spare parts for Mimicro
We offer spare parts for any part of our Mimicro Logic, for more information access the button below.

---
Renting option
At croma Ibérica we offer our clients the possibility of renting this equipment.

---
Training for use in our facilities is included in all equipment.
30 years of experience support our recommendation to carry out the training in our facilities for different reasons, but mainly because the people involved are fully dedicated to training, without external agents to interfere or interrupt, in addition to the fact that the people to train can see first-hand hand, other systems or tools that can complement the planned training and provide a broader knowledge of the process.
Choose product attributes:
Ref.
Modelo
Fuerza (Nw)
Número de colores
Tintero (mm)
Distancia entre tinteros (mm)
Mesas coordenadas
Mesa giratoria
Sistema desplazador
Unit price
Buy
MMT000049
NS
700
1
oval de 70x138
-
TO100
-
-

€13,992.86

MMT000050
NS
700
1
70
-
TO100
TRCN 02S (ø350mm)
-

€16,995.71

MMT000051
NS
700
1
70
-
-
TRCN 03 (ø550mm)
-

€25,622.86

MMT000052
NS
700
2
70
76,2
TO100
-
SE 76 ( tampones)

€16,158.57

MMT000054
NS
700
2
70
76,2
TO100
TRCN 02S (ø350mm)
-

€18,885.71

MMT000056
NS
700
2
70
76,2
TO100
TRCN 02S (ø350mm)
SE 76 ( tampones)

€21,618.57

MMT000048
NS
700
1
70
-
TO100
-
-

€11,658.57

MMT000058
N90S
700
1
90
-
TO100
-
-

€12,388.57

MMT000060
N90S
700
1
90
-
TO100
TRCN 02S (ø350mm)
-

€17,724.29

MMT000061
N90S
700
1
90
-
-
TRCN 03 (ø550mm)
-

€26,351.43

MMT000062
N90S
700
2
90
114,3
TO100
-
PL300 (piezas)

€21,715.71

MMT000063
N90S
700
2
90
114,3
-
TRCN 02S (ø490mm)
-

€21,622.86

MMT000064
N90S
700
2
90
114,3
-
TRCN 03 (ø550mm)
-

€29,678.57

Total:

0,0

All prices with tax excluded.
Tax rate: 21,0%.