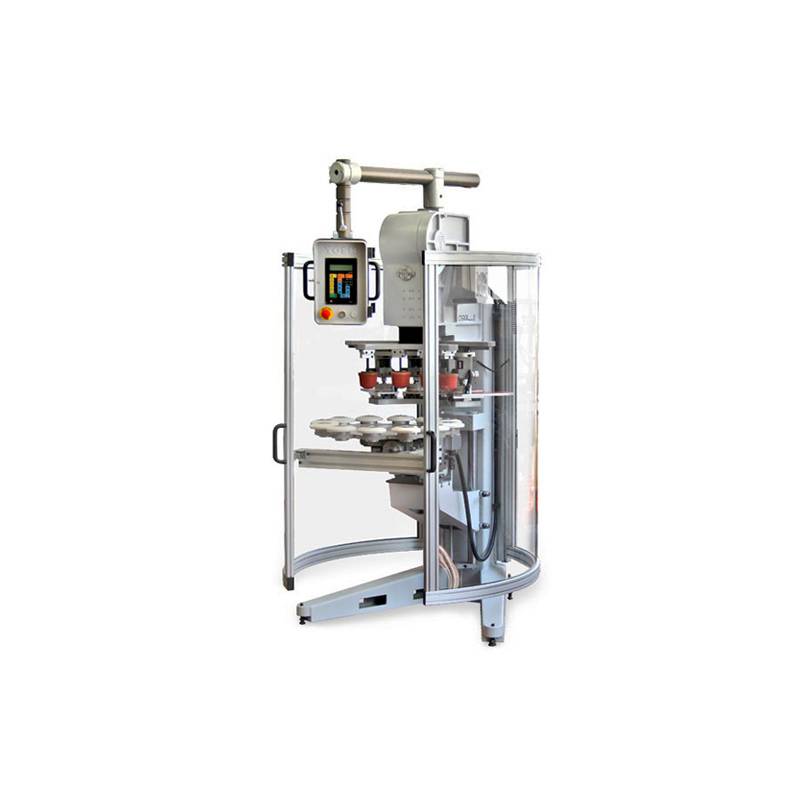  
Logica Micro II
High Speed Pad Printing Logica Micro II ◁ Croma Ibérica ®
The Logic Micro II is a high speed numerically controlled pad printing machine manufactured by Tosh. It has different combinations and can print up to 5 different colors. Its operation is totally electric. An ideal equipment to be installed in production lines or in special plants.
Entrega en 24/48h*
General description
All mechanical movements are motorized by numerical control, guaranteeing high precision, providing complete flexibility of operation and simplicity without compromise.
Its unique electrical operation presents a considerable advantage over an equivalent pneumatic machine.
Machine made of light alloy and special steel. Respectful of the environment. Due to its available hermetic ink system, it prevents solvent evaporation.
Independent adjustment of speeds to each of the six gears, ability to memorize the different and most important phases of the printing cycle.
The changeover time is reduced to a few minutes, thanks to the considerations given in the concept design to apply ergonomic principles to the system.
Due to the quality of the mechanical design, the smooth running function results in a quiet action, thus allowing it to be used in any environment. Possibility of printing under the printing plate, allowing decoration in each position on large objects.
The manufacture was also conceived to guarantee a long service life without any maintenance.
All adjustment functions can be performed using the numeric keypad with alphanumeric display. It also has a countdown and memory function of all the different work programs for easy setup.
Possibility of printing on different surface levels of the same object, easily adjusting the stroke through the keyboard.
---
Renting option
At croma Ibérica we offer our clients the possibility of renting this equipment.

---
Training for use in our facilities is included in all equipment.
30 years of experience support our recommendation to carry out the training in our facilities for different reasons, but mainly because the people involved are fully dedicated to training, without external agents to interfere or interrupt, in addition to the fact that the people to train can see first-hand hand, other systems or tools that can complement the planned training and provide a broader knowledge of the process.
---
Data sheet
ALIMENTACIÓN ELÉCTRICA

220/240 V, Fase única, 50/60 Hz

OPERACIÓN

Eléctrico con control numérico computarizado

FUERZA DE ESTAMPADO

3.850 N

COLORES A IMPRIMIR

De 1 a 5 colores

DIÁMETRO MÁXIMO DEL TINTERO

130 mm

CONSUMO MEDIO

120 mm

VELOCIDAD MÁXIMA

hasta 5.000 pcs/h

RECORRIDO VERTICAL DEL TAMPÓN

130 mm

ALTURA MÁXIMA DEL TAMPÓN

1150x1500x2200 mm (LxAxH)

DIMENSIONES

1150x1500x2200 mm (LxAxH)
Choose product attributes:
Ref.
Número de colores
Tintero (mm)
Mesas coordenadas
Mesa giratoria
Sistema de protección
Unit price
Buy
MMT000182
1
oval CR 110/225
TO200
TRCN 2.5 (ø 500mm)
P1

€38,650.00

MMT000180
1
115
TO100
-
-

€25,903.33

MMT000181
1
130
TO200
TRCN 2.5 (ø 500mm)
P1

€36,633.33

MMT000183
2
130
TO200
TRCN 03 (ø680mm)
P1

€40,365.56

MMT000184
2
130
TO200
TRCN 03 (ø680mm)
P2

€43,610.00

MMT000185
3
90
TO200
TRCN 03 (ø680mm)
P1

€43,518.89

MMT000186
3
130
TO200
TRCN04 (ø900mm)
P2

€48,656.67

MMT000187
4
90
TO200
TRCN 03 (ø680mm)
P1

€46,072.22

MMT000188
4
115
TO200
TRCN04 (ø810mm)
P2

€50,788.89

MMT000189
5
90
TO200
TRCN04 (ø810mm)
P2

€52,248.89

Total:

0,0

All prices with tax excluded.
Tax rate: 21,0%.