Back

Goccopro

Goccopro printing machines.

Consumables needed to get the best results with Goccopro.

Presses

Automatic printing grabs.

Manual printing octopuses.

Bases for textile printing

Workshops

State-of-the-art screen printing workshops.

Training courses required for the printing industry.

Sublimation

High quality sublimation printers.

Consumables for sublimation.

Heat presses for the decoration of objects.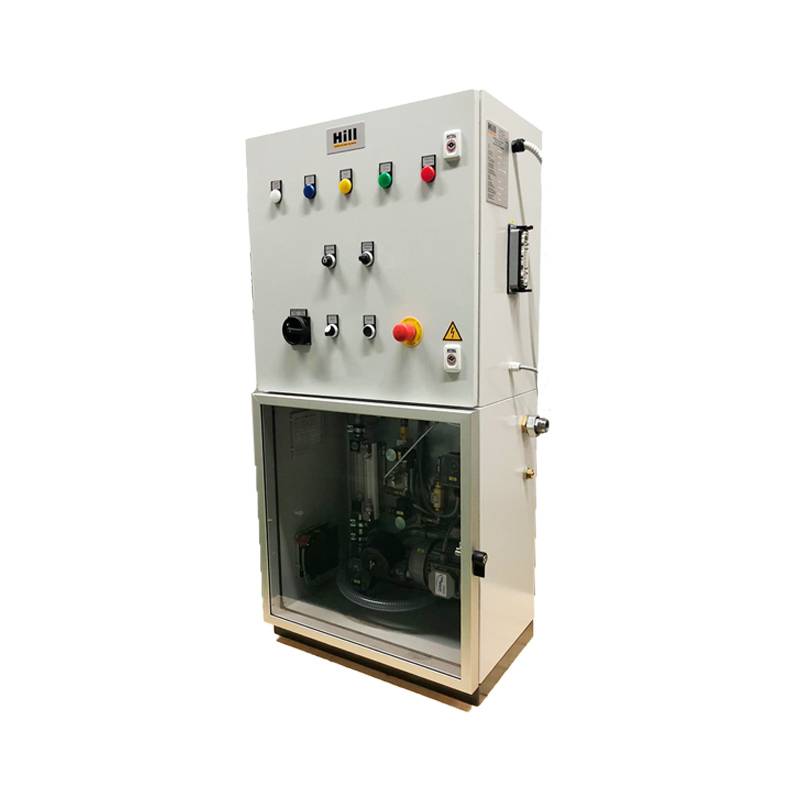  
Flamer MF100
Industrial Flamerer MF100
The MF100 is an industrial flamer used to measure energy in the surface treatment process. This device has a built-in compressor to generate its own air, which is what fuels the flame.
Entrega en 24/48h*
Guaranteed safety and efficacy
It is a device capable of effectively measuring changes in the surface energy of any type of objects and materials. This process is carried out with the aim of achieving greater adherence of the inks in different printing systems such as screen printing and pad printing. It has a closed circuit air control that generates a permanent flame. The MF100 guarantees you a professional finish on your product. In addition, it contains a single control that reduces the risk of operator error, a fact that represents a totally safe product handling.
Automatic device
The equipment is made up of an electrical panel, which controls the automatic start-up and the burning flame. It also has a mechanical cabinet from where it serves the compressed air. The MF100 also contains safety valves, power regulation, automatic carburettor, pressure level controls and non-return valves. In addition, it contains two burner sizes (100 mm and 200 mm) to be able to adapt the process to different needs.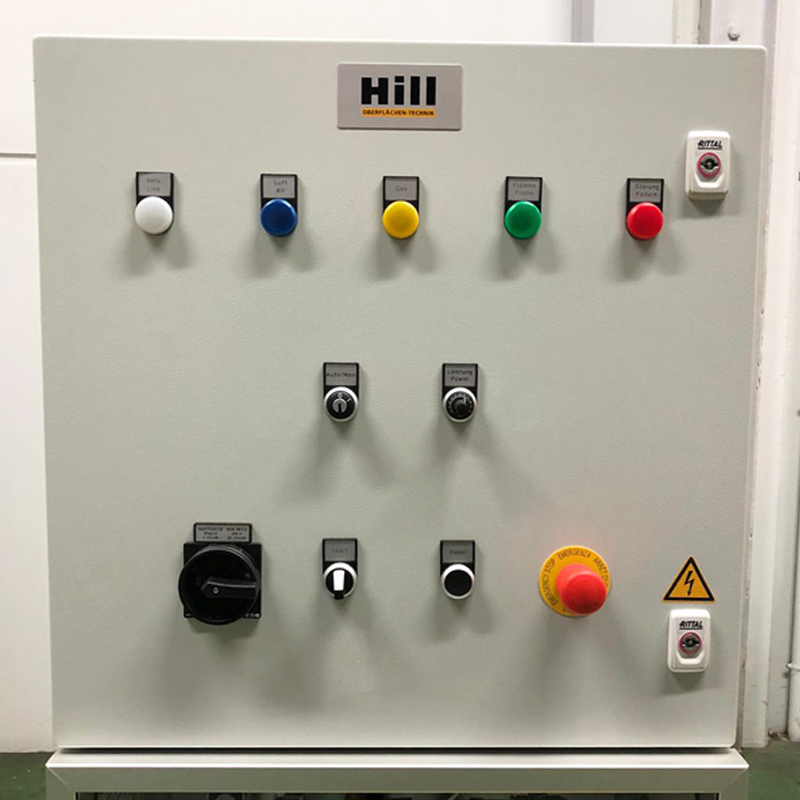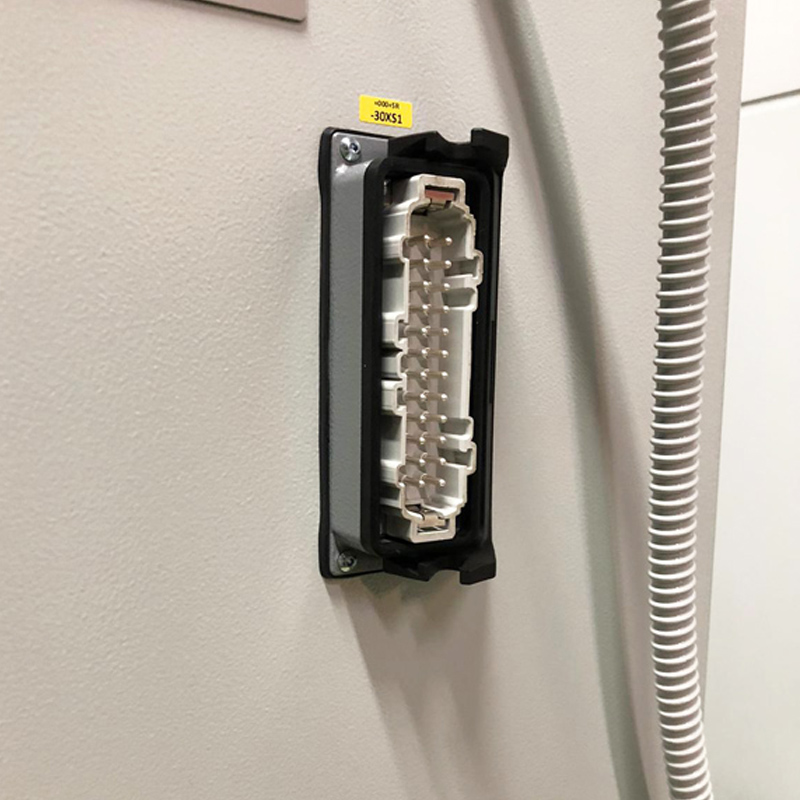 Industrial flaming
The operation of industrial flaming consists of a flame that is projected on the piece to be treated. In this flame, which can reach up to 1800 °C during combustion, there is unconsumed oxygen (short flame), diffused oxygen in the hot flame from the environment and the combustion products (e.g. CO2, H2O) partially in the form active. These highly reactive radicals (e.g. O, OH) can break down long-chain plastic molecules on the surface and bind at the break points. In this way, polar parts arise in the molecules. Increases surface tension and wettability. The breakage of the long-chain plastic molecules allows the ink to bond better to the surface as well. The other processes that occur on the surface are a wrinkling of the surface and a certain cleaning effect. A wrinkle in microscopic dimensions, therefore not visible, leads to an enlargement of the surface and allows a better mechanical grip.
Flat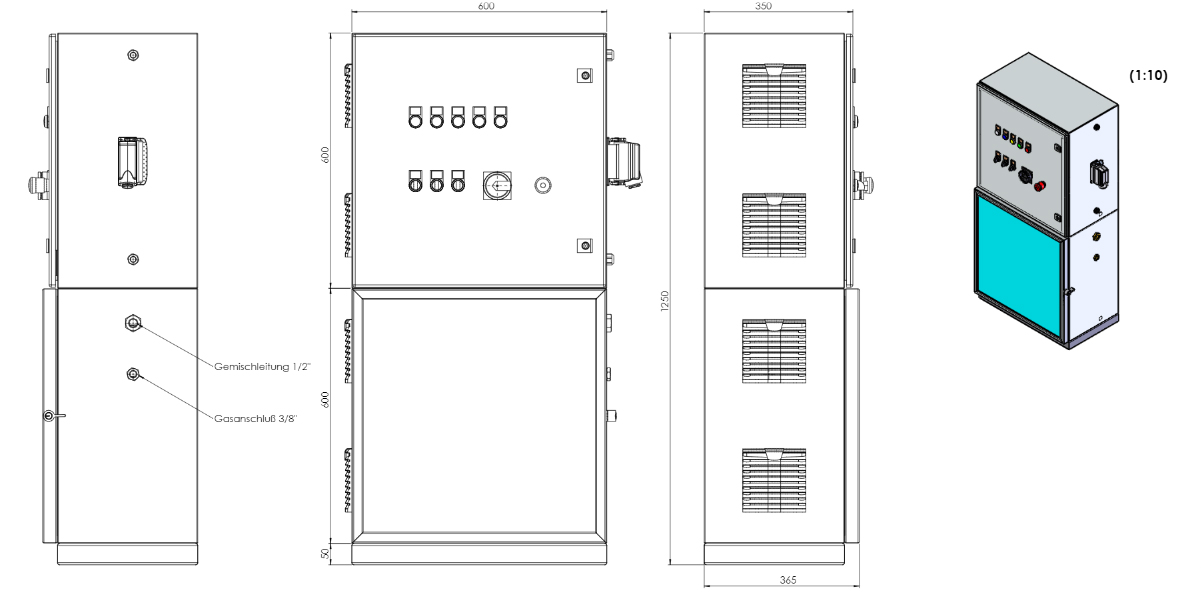 Adjustable burner

Data sheet
ALIMENTACIÓN ELÉCTRICA

230 V - 50 Hz - 800VA

POTENCIA DE SALIDA

max. 6kW

FUNCIONAMIENTO

Manual

SUMINISTRO DE GAS

Gas natural (50-100mbar) - Gas propano (50-100mbar)

CONSUMO DE GAS

max 0,5 Kg/h para el gas propano - 0,52m³ por el gas natural

MATERIAL A TRATAR

Cartón
Metal
Plástico
Vidrio

COLOR

RAL 7035

DIMENSIONES

1250x600x350 mm (HxWxD)