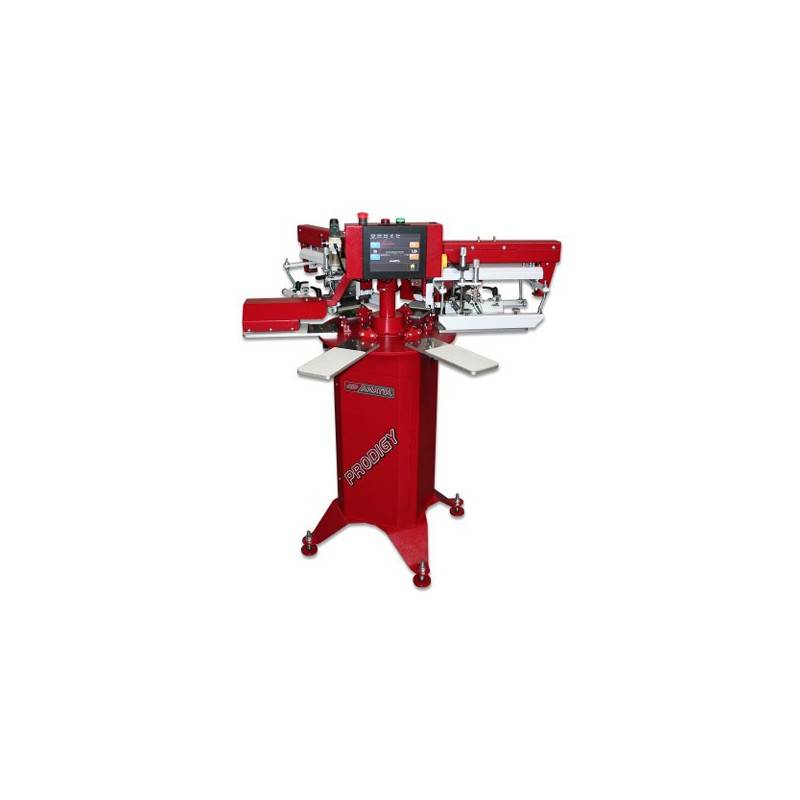  
'Prodigy' Automatic Press
Prodigy | Automatic Press for Label Screen Printing
Ideal solution for the silk-screen printing of labels and other small objects
Prodigy has been designed accurately for silk-screen printing small objects such as labels, sleeves, and others. It can assume high speeds (even 2000 cycles/hour) for industrial production. It is a solution which combines efficiency and easy routine and operation programming. The servo-motorized indexer and its manufacture with top quality materials guarantee perfect operation over time. In addition, it has flashes for automatic curing of screen printing to ensure excellent quality in the finishes.
Ease of operation and set-up
One of the characteristics most valued by customers is its ease of operation and set-up. All routine programming and control functions are monitored from a touch screen with an intuitive program. In addition, all the adjustments on the machine, such as the micro-registration in its three axes, the adjustment of the position of the stations as well as the positioning and adjustment of the position of the doctor blade is carried out without the need for tools.
Technology for work optimization
The pneumatic print heads are individually adjustable: Select the number of strokes of the squeegee as well as its speed to obtain the perfect screen printing. In addition, they are easily replaceable for a new job if necessary and have a sensor that detects the presence of the substrate to avoid the inadvertent absence of product at the time of printing.
Training for use in our facilities is included in all equipment.
30 years of experience support our recommendation to carry out the training in our facilities for different reasons, but mainly because the people involved are fully dedicated to training, without external agents to interfere or interrupt, in addition to the fact that the people to train can see first-hand hand, other systems or tools that can complement the planned training and provide a broader knowledge of the process.
Choose product attributes:
Ref.
Estaciones
Número de colores
Diámetro pulpo (cm)
Nº Flash
Consumo de aire
Unit price
Buy
MMSP0602
6
2
114,3
2
4SCFM

€19,556.00

MMSP0803
8
3
129,54
3
6SCFM

€25,232.00

MMSP0804
10
4
210
3
8SCFM

€31,621.00

Total:

0,0

All prices with tax excluded.
Tax rate: 21,0%.