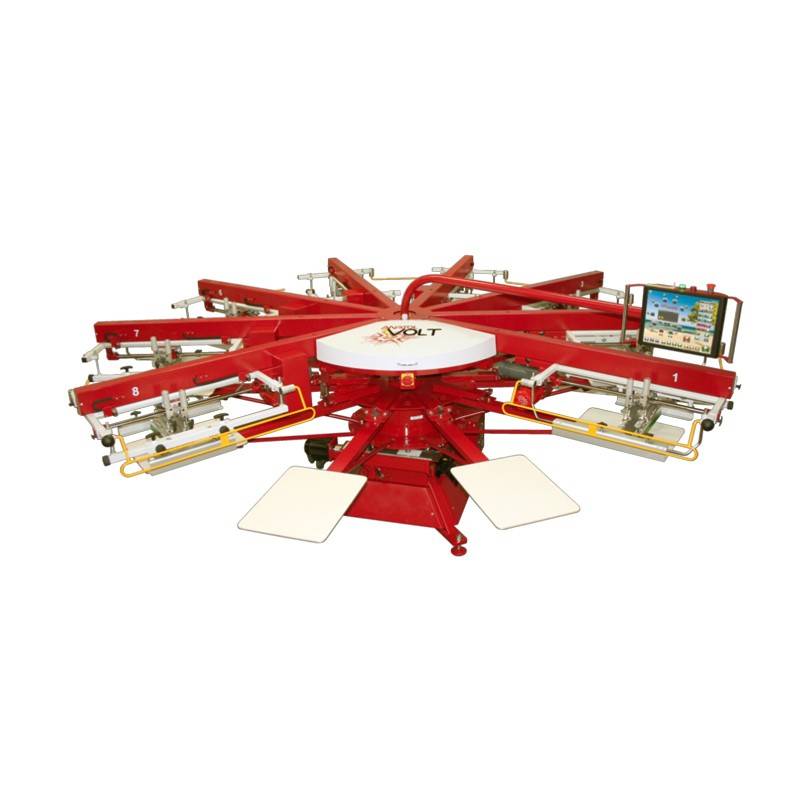  
Electric screen printing machine for industrial production
Volt is a 100% electric and automatic screen printing machine for medium and large productions, with which high speed and reliability is obtained. It has been designed to meet the needs of large commercial brands and to have the ability to place large orders for screen prints of up to 12 colours. In addition, it executes the actions guided by a precision servo-motor, which ensures the quality of the final result. Having a Volt in your company will help you grow more easily and quickly and leave your strongest competitors in the sector behind.
There are 4 different models according to your printing area
1. Volt S
Printing area: 38 x 41 cm
Screen printing machine available in configurations of:
6 stations to 12 stations and from 2 to 11 colours.
2. Volt M
Printing Area: 41 x 46 cm
Screen printing machine available in configurations of:
6 stations to 14 stations and 2 to 12 colours
3. Volt L
Printing area: 51 x 51 cm
Screen printing machine available in configurations of:
6 to 20 stations and 4 to 18 colours.
4. Volt XL
Printing area: 51 x 57 cm
Screen printing machine available in configurations of:
8 to 20 stations and 6 to 18 colours.
Reduced consumption
With Volt, we have managed to considerably reduce the energy consumption required for its operation compared to pneumatic grapples. They also tend to give far fewer maintenance problems. In addition, they are less likely to generate dirt or accumulation of dust and moisture.
General characteristics
Volt touch screen
Volt has a 15 '' touch screen from where the operator can easily program and control the machine. From the screen you can control the speed (for both directions), see the duration of the work and the semi-curing, temperature, the design, the selected colour, the area where the printing is carried out, etc. In addition, all these parameters can be saved for later work and for the configuration of all the print heads at the same time.
Blueprints
The rubberized aluminium flats are easily installed and removed using a latch system without the use of tools. In addition, they can be accurately levelled, and their height is servo-motorized for smooth and precise operation.
Print heads
Volt print heads have an emergency stop button to prevent printing on workstations or empty drawings. The clamps or fastening system of the screen printing screens is easily adjustable and accessible. It has micro-register to adjust the screen in its three axes (right - left, forward and backward, rotation) without the need for tools.
Palettes
- Servo Motor for lifting of pallets for smooth operation.
- Rubber coated solid aluminium paddles.
- Tool-less locks for sliding or quick-release boards.
- Precise four-point paddle levelling system.
- Standard 16 "x 22" paddles (18 "x 22" in Volt) included.
- Other sizes available on request.
- Choice of paddle slide or quick release style.
Tool-free adjustment
The tilt of the scraper can be easily adjusted from 0 to 30 degrees in 5 degree increments, as well as its height relative to the screen. The scrapers can also be easily replaced thanks to its clamping pliers system.
Building
Volt is made of steel to withstand long production runs and high speeds. It contains a lubrication system inside to reduce vibrations and maintenance costs. It also has safety bars to avoid accidents, especially in the loading stations of the product to be printed.
---
Training for use in our facilities is included in all equipment.
30 years of experience support our recommendation to carry out the training in our facilities for different reasons, but mainly because the people involved are fully dedicated to training, without external agents to interfere or interrupt, in addition to the fact that the people to train can see first-hand hand, other systems or tools that can complement the planned training and provide a broader knowledge of the process.
Choose product attributes:
Ref.
Estaciones
Área de impresión (mm)
Número de colores
Unit price
Buy
MMSVS0605
6
380x410
5

€51,724.47

MMSVS0604
6
380x410
4

€46,324.97

MMSVM0605
6
410x460
5

€56,542.43

MMSVM0604
6
410x460
4

€50,895.58

MMSVL0605
6
510x510
5

€40,054.67

MMSVL0604
6
510x510
4

€36,828.00

MMSVS0807
8
380x410
7

€60,322.89

MMSVS0806
8
380x410
6

€54,505.35

MMSVM0806
8
410x460
6

€59,623.30

MMSVM0807
8
410x460
7

€65,798.08

MMSVL0806
8
510x510
6

€43,085.78

MMSVL0807
8
510x510
7

€46,654.67

MMSVX0807
8
510x710
7

€50,761.33

MMSVX0806
8
510x710
6

€46,996.89

MMSVS1009
10
380x410
9

€76,661.28

MMSVS1008
10
380x410
8

€69,720.66

MMSVM1009
10
410x460
9

€77,050.11

MMSVM1008
10
410x460
8

€73,106.91

MMSVL1008
10
510x510
8

€55,894.67

MMSVL1009
10
510x510
9

€59,659.11

MMSVX1008
10
510x710
8

€61,370.22

MMSVX1009
10
510x710
9

€65,330.22

MMSVM1210
12
410x460
10

€91,627.65

MMSVM1211
12
410x460
11

€98,855.67

MMSVL1210
12
510x510
10

€70,463.56

MMSVL1211
12
510x510
11

€74,423.56

MMSVX1211
12
510x710
11

€81,708.00

MMSVX1210
12
510x710
10

€77,552.44

MMSVM1412
14
410x460
12

€114,208.72

MMSVL1412
14
510x510
12

€87,428.00

MMSVX1412
14
510x710
12

€96,716.89

MMSVL1614
16
510x510
14

€105,321.33

MMSVX1614
16
510x710
14

€115,588.00

MMSVL1816
18
510x510
16

€124,192.44

MMSVX1816
18
510x710
16

€158,008.89

MMSVL2018
20
510x510
18

€144,041.33

MMSVX2018
20
510x710
18

€199,368.89

Total:

0,0

All prices with tax excluded.
Tax rate: 21,0%.