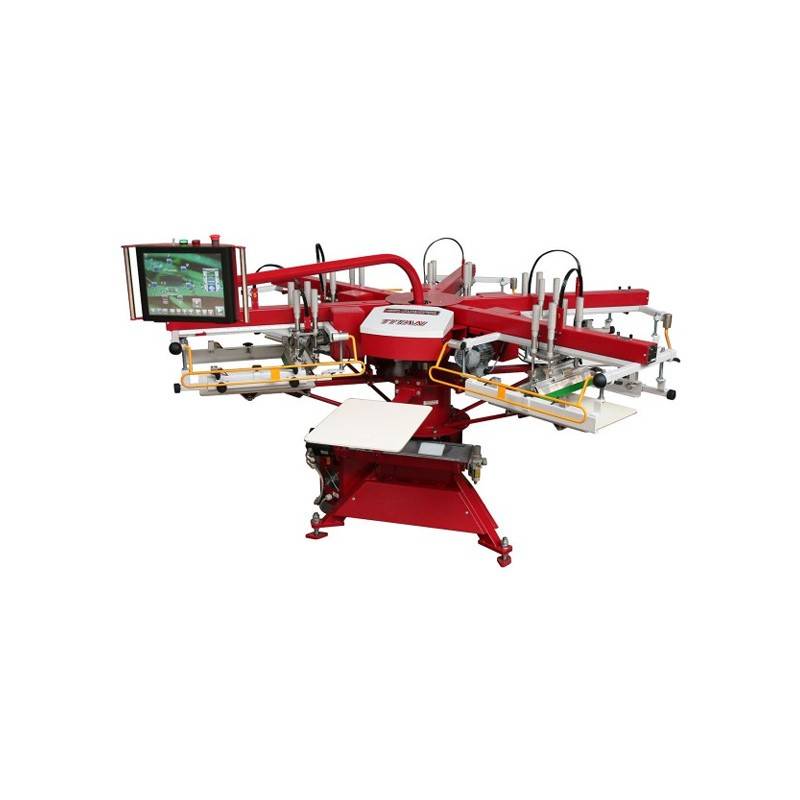  
Small footprint and easy to use solution
Although it has the name of a giant, 'Titan' is a small automatic grab that has been designed for installation in any workshop or premises. It is a perfect screen printing press for those who have worked manually and want to make the leap to automatic screen printing. Both its installation and its operation is very simple, as well as its configuration and control through a touch screen accessible from any work station.
High performance in a small space
This press has been manufactured with the aim of guaranteeing reliability over the years and so that you can offer top quality serigraphs to your clients. It has an easily adjustable micro-registration system (movements of the print head in its 3 axes) and a system of clamps to fix the screen, in addition to a shock absorbing hydraulic system and the possibility of adjusting the number of strokes or passes of the doctor blade. In addition to efficiency, safety is a very important aspect to take into account in an automatic machine: Titan has protection bars for the operator's safety. 
Tool-free adjustments
One of the most interesting features of Titan is that it is possible to make adjustments manually without the need for tools. Tilting the scrapers (0-30 degrees in 5-degree increments) and adjusting the position of all workstations or planes at the same time is done without tools.
---
Training for use in our facilities is included in all equipment
30 years of experience support our recommendation to carry out the training in our facilities for different reasons, but mainly because the people involved are fully dedicated to training, without external agents to interfere or interrupt, in addition to the fact that the people to train can see first-hand hand, other systems or tools that can complement the planned training and provide a broader knowledge of the process.
Choose product attributes:
Ref.
Estaciones
Área de impresión (mm)
Número de colores
Unit price
Buy
MMSTS0604
6
380x410
4

€28,668.54

MMSTS0605
6
380x410
5

€30,825.56

MMSTM0604
6
410x460
4

€33,329.11

MMSTM0605
6
410x460
5

€35,937.45

MMSTS0806
8
380x410
6

€33,686.23

MMSTS0807
8
380x410
7

€37,569.61

MMSTM0806
8
410x460
6

€38,801.66

MMSTM0807
8
410x460
7

€44,591.41

Total:

0,0

All prices with tax excluded.
Tax rate: 21,0%.