Back

Goccopro

Goccopro printing machines.

Consumables needed to get the best results with Goccopro.

Presses

Automatic printing grabs.

Manual printing octopuses.

Bases for textile printing

Workshops

State-of-the-art screen printing workshops.

Training courses required for the printing industry.

Sublimation

High quality sublimation printers.

Consumables for sublimation.

Heat presses for the decoration of objects.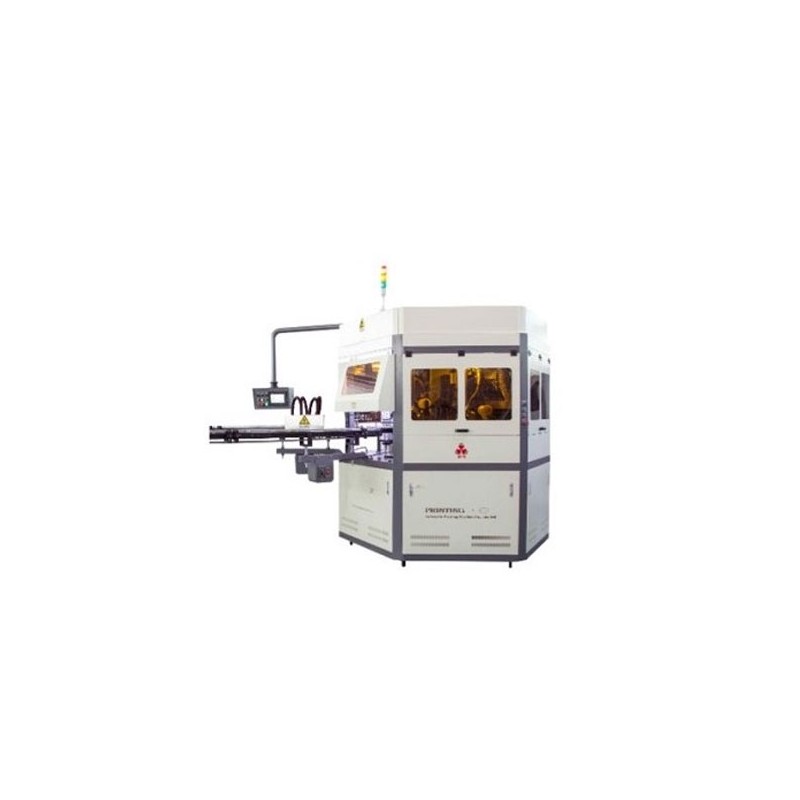  
Equipped to carry out a 100% automatic production.
The A-601CSS machine is ideal for 24/7 production jobs, meaning the machine is running around the clock. In addition, being a screen printing and pad printing machine and incorporating a UV curing system, it can be adapted for printing UV inks on cylindrical supports with or without registration.  
General description
A-601CSS incorporates an automatic loading system with loading conveyor, an automatic flame flaming system, an anti-static anti-dust blowing system, automatic registration to escape the joint joint in glass pieces and automatic discharge system in conveyor belt. The printing carried out by the machine is combined with screen printing and thermo printing with CNC precision on the axes and it has all the tool holders controlled by CNC (without gears and for a quick and easy change of diameters). It contains a CNC servo motorized dividing plate with which it is possible to carry out movements of the CNC servo motorized screens. In addition, it complies with the requirements of protective enclosure according to CE.
---
Renting option
At croma Ibérica we offer our clients the possibility of renting this equipment.

---
Training for use in our facilities is included in all equipment.
30 years of experience support our recommendation to carry out the training in our facilities for different reasons, but mainly because the people involved are fully dedicated to training, without external agents to interfere or interrupt, in addition to the fact that the people to train can see first-hand hand, other systems or tools that can complement the planned training and provide a broader knowledge of the process.
Data sheet
ALIMENTACIÓN ELÉCTRICA

50/60 Hz
380 V
Fase triple

CONSUMO MEDIO

3 Kw

VELOCIDAD MÁXIMA

2400 piezas/hora, Hasta 3600 c/h

ÁREA DE IMPRESIÓN

40 mm

LONGITUD DE IMPRESIÓN

120 mm

SUMINISTRO DE AIRE

6-8 bar

FUNCIONAMIENTO

Automático